Well, of course that's what Range Rovers are for… isn't it ?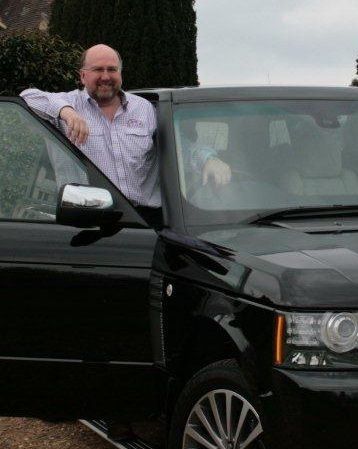 You see, there was a chap putting some fencing up for me at the far side of one of the fields at the rear at Lowe Towers … I wanted to have a quick chat with him, but he was little more than a speck in the distance … and my Range Rover was conveniently close … I thought, well, it's my field – why not…?
So, it was while I was hurtling across the field when the subject matter of todays email occured to me (which I'll explain in just a minute) … but was replaced almost immediately with a second, more urgent thought, one which made me revert to a more pedestrian pace almost immediately…
This field was, for the most part, meadow grass, and the reason for the emergency braking was that I just remembered it previously had something of a mole problem … and had collected all of the spoil and debris from their excavations in to one heap…
This heap, given the height of the meadow grass, would be completely invisible until it was far too late … and whilst I had intended on quite a 'showy' arrival beside the chap at the other end of the field – an unintentional 'A Team' style leap before landing my Range Rover next to him would have done his heart no good at all…
Before all this unscheduled excitement I was thinking about that old saying, a 'Bad hunter chases, a good hunter waits' which, in a nutshell – points out that rather than chasing down your target waving a spear in an extravagant and very labour intensive manner – it might be better to simply hang about by the path to the local watering hole and jump out when your target inevitably but eventually goes past.
Which, if you transfer that strategy over into the online world, might be useful if you are finding that you don't have as much time as you'd like to 'chase' your customers down and keep coming back empty handed…
So, instead of pursuing customers across the internet with expensive advertising and perhaps slightly too many emails with the aim of instant results … you might find you would be better off finding out where you ideal customers are likely to be, and set your 'stall' out nearby in order to attract and collect your customers that way.
This can take longer to bear fruit than 'chasing' certainly, but may well be a better use of your time if it is your scarcest commodity as it is less effort (and cheaper too) to share a link back to your content from a Facebook group for your niche and 'wait' for a response, rather than spend time on keyword research and producing an 'ad' that will 'chase' them around everywhere they go online.
Remember, it's your online business you're building, and no-one knows better than you what other commitments you have … so you have to judge what are the best uses of your time and resources and if you simply don't have the time or money to go for quick results we all crave… there is nearly always a more sedate alternative…
Until Next Time,


Tim Lowe
Publisher, Tim's Business Lowe Down