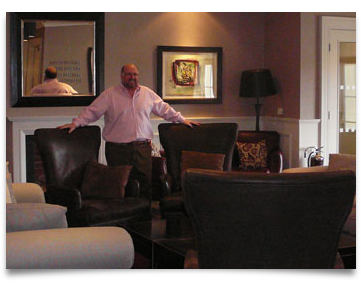 Stranger things have happened … but to be fair, not many…
Picture the scene … It's a quietish Sunday morning at the gym, and the duty manager scans the room and carefully spots his target … he walks past the line of bending and stretching Lycra clad gym bunnies and instead approaches a stout, sturdily built even, chap on the treadmill … he clears his throat and says… "erm Tim…, ahem, would you mind if we put your photo on the gym advertising… we'd like you to be our 'Gym Buck'?"
No, I won't blame you for laughing – after all, I did… I mean, Tim Lowe, Millionaire (that was always the idea) or Tim Lowe, Inspired Marketer …? (On a good day, certainly) … but Tim Lowe, Gymnasium poster boy…?
Apparently it's because I've gone from being very, very fat and unfit to merely fat and 'quite fit actually all things considered'… lost a considerable number of inches off my waist, and shown the right attitude to training throughout.
I'm sure another reason is that not only do I look like a 'real' person, but maybe one that might usually have avoided the gym for want of looking daft, or thought that there was just so much to change that it wasn't really worth starting…
That, of course, is a common problem – and not just when it comes to shifting a few pounds … for instance just a quick glance at my Facebook newsfeed (and if you've got 'make money online' or 'internet marketing' among your listed interests, you'll know exactly what I mean) there are plenty of 'sponsored stories' popping up of slick, shiny, meticulously coiffured chaps with their high tech videos selling all manner of highly polished systems that would leave anybody who was entertaining the idea of making money online with the firm belief that they're so far behind everybody else that they might as well not bother…
Now, during in my decade or so as part of our online community, it's always been this way – there is always someone richer, faster or cleverer than you – and there always will be. Despite all this, the number of people making a living (if not a fortune) online increases every year. (and yes, some of them are the ones with the slick and shiny videos)
What they did first though, and the real key to their success was to get the basics right … basics like offering value, building a good relationship with their customers and following up on their promises…
So, I'm not guaranteeing that if you decide to get started today, you'll find massive wealth and success online, not at all … one guarantee I will make  however, is that if you always sit there putting it off, finding reasons not to start, you will never, ever make a penny online.
Until Next Time,


Tim Lowe
Publisher, Tim's Business Lowe Down