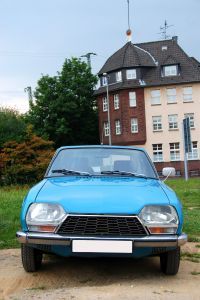 Today, I'd like to talk about customer experience. Getting a customer 'in the door' either physically or figuratively is probably one of the most expensive and labour intensive things you have to do … so when they're there it's key that they leave happy, and are likely to come back again, preferably quite regularly, and ideally for bigger and better things as your relationship with them grows.
Firstly, let's look at my customer experience at Heathrow … where, because 'She Who Must…' and I were only going to be away a couple of days, I had booked in advance into business parking because it's cheaper and easier than getting a taxi.
The car park gate has number plate recognition so you are let in without any fuss, and because I booked in advance I know I had a space. Then, best of all, we got into one of those automatic shuttle taxi things (I always call them 'Johnny Cabs' after the ones in Total Recall) and were in the terminal in just four or five minutes…
Contrast that, then, with what happened while we were over in the South of France…
This was the day after the 'Gallic Shrug' incident I talked about a week or so ago. We had reached our destination, met up with our friends and decided to spend the evening at one of the areas famous and exclusive eateries.
Now, despite this being a Saturday evening, it turned out the vast majority of places to go were not open that evening – or indeed any evening this side of Easter … and everywhere else had been booked weeks in advance.
As I never like to take 'No' for an answer, after some 'negotiations' I was able to organise a booking in a rather exclusive restaurant secreted away in a vineyard. Our friends had been in the area for a week or so already, and had been using a local taxi company for their various trips here and there, so it was to them we explained our travel arrangements … a 7 seater taxi, for 7pm.
7pm passed … and my friend's 'chase up' call to the taxi company not only resulted in a denial about any arrangement involving taxis, but a complete refusal to acknowledge that my friend had been using his taxi all week, or even that he existed atall…
Calls to other companies could not garner us another 7 seater, but we were promised 2 cabs, provided we could wait until 8pm.
8pm came and went, and along with it the last vestiges of my patience… a brief 'instructional' phone call eventually resulted in not two, but only one taxi with the owner explaining (with compulsory 'Gallic Shrug') that despite what he may have promised on the phone, this was as many taxis as he owned….
So, at Heathrow, the service I had booked in advance was accessible and working, all the correct resources were available – and it all went smoothly,  with no further prompting from me to make it happen … what most of us would, rightly, class as a good customer experience.
Yet just over 24hrs later, the experience with the French Taxi drivers was one of them not following through on promises, denial of responsibilities, providing inadequate resources and just plain being dishonest to get the job, and then doing only half of it.
I think it's relatively easy to grasp the point I'm making here, so I won't go into too much detail except to say, if the 'French Taxi' scenario is reminiscent of how you do things, and you're not getting the kind of results you want to, then that's probably why…
Until Next Time,
Tim Lowe


Publisher, Tim's Business Lowe Down